Shabbos
Candle lighting time is 4:48.
Today is one of my favorite sabbaths of the year as it is the anniversary of my Bar Mitzvah at Parkway Jewish Center 53 years ago.  Am I  really that old?  Where has the time gone?
This year I will be sharing my Bar Mitzvah sabbath with my cousin Ron and his wife Britt's daughter, Meredith, as she celebrates her Bas Mitzvah at Temple Emanuel.  And so I wish a very blessed Mazel Tov to this branch of the Roteman family tree.
I remember my Bar Mitzvah day so very well.  A light snow was falling and we were very concerned that many of the relatives living in the East End would not be able to make the trip out into "the country" as they called it to attend the Bar Mitzvah.
But attend they did, including my Bubbah, who had been in the hospital and then a nursing home suffering from diabetes, colitis, and shingles.  Bubbah seemed to always be in and out of the hospital, and this was the first time that she had been able to venture out in many months.  What a thrill it was to have her sitting in the front row for my Bar Mitzvah!
Our rabbi was Pinchas N. Gross.  Rabbi Gross was very traditional and quite a taskmaster, but as I look back over these many years I understand that most of my Jewish learning and the reasons I love to attend services can all be attributed to Rabbi Gross.  Every time we sing Aytz Chayim on Shabbos, I can see and hear Rabbi Gross singing this prayer, and the passion with which he sang it and his love for Torah echoes in my heart.
Rabbi Gross actually wrote the Bar Mitzvah speeches for all of his Bar Mitzvah boys. They always started with, "Dear parents and grandparents, esteemed Rabbi, relatives and friends."  We kids often secretly made fun of the "esteemed Rabbi" part, but I wish today more young people would be taught to treat their rabbis with the level of respect that Rabbi Gross demanded.  Somehow, calling a rabbi Rabbi Chuck or Rabbi Alex just doesn't resonate with me.   A rabbi can be your friend, but he is also your teacher and spiritual leader.  How many of us ever called our teachers in school Mr.  Tom or Mr. Bill?  No, we always addressed them using Mr., Mrs, or Miss and their last name.   Call me an old fuddy-duddy, but I firmly believe that part of what is wrong with society today could be corrected if our young people were taught to respect their, parents, elders, rabbis, and others in positions of authority.
Another thing that was so different about my Bar Mitzvah as compared to many Bar Mitzvahs today is that there was no competition between families to throw the biggest, most elaborate, most expensive Bar Mitzvah in the neighborhood.  No one had a reception at PNC Park or Heinz Field.  No one had fireworks at his reception.  Guests did not get expensive and elaborate favors for attending.  My family did not have very much money.  My older brother's reception was a small party in our basement.  I did not have a reception.  Instead, at my choosing, my parents, brothers and sister and I had dinner together at Weinstein's Restaurant in Squirrel Hill.
One improvement that I do see in Bar and Bas Mitzvahs of today is that most of the time the B'nai Mitzvah boys and girls have community service projects that they perform.  We had no such projects.  I regret that we did not.
Yes, I think back so very fondly upon my Bar Mitzvah day.  I wish that my parents, my grandparents, the uncles and aunts who have passed away, and Rabbi Gross were still with me, but I pray that as they look down upon me from Heaven above, they are proud of what I have accomplished and what I have become as a result of the love and support that they provided all those many years ago.
Parshah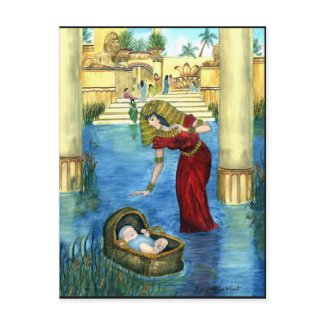 This week's parshah,  Shemos, is the first parshah in the book of Exodus.
In this parshah we find a new Pharoah upon the throne of Egypt, a Pharoah who remembers not Joseph, but instead fears the Children of Israel who had become numerous and prominent in his land.  And so, as we have seen so many times in the history of the Jewish people, the Pharoah decides to punish Jews, not for anything that they have done, but for fear, without cause, of what they might do, in this case that they might join with Egypt's enemies and drive the Egyptians from their land.
The punishment for having been good citizens?  The Jews are made to become slaves.  Then, Pharoah decides to engage in genocide against the Jews, ordering that all male Jewish babies be put to death.
What transpires next is the story we remember every year at Passover.  Moses is placed in a basket in the Nile, Pharoah's daughter pulls the basket from the River, and Moses's mother (Pharoah does not know that she is the mother) is brought to the palace to nurse the baby.
Eventually, Moses kills an Egyptian who is beating a Jew, and Moses flees Egypt, going to Midian, where he becomes a shepherd.  One day one of Moses's sheep strays away to Mt. Sinai.  When Moses follows the sheep upon the mountain, he sees a burning bush that is not consumed by the flames, and has his first personal encounter with God, who instructs him to go to Egypt and tell Pharoah to let the Jewish people go.  Although the humble Moses doubts his ability to perform this task, God knows that Moses is the person He can count upon to become the leader of His chosen people, and so He sends Moses and his brother Aaron, as Moses's spokesman, to confront Pharoah.
And so the incredible story of the Jewish exodus from Egypt is begun.  It is a story that we will read about over the coming weeks, and it is a story that we will recount at our Passover seders year after year, with this year's first seder coming up in just a few short months on the evening of March 25.
The Chair Lift is Here!
Have trouble getting up the steps between our sanctuary and the social hall?  Well, you don't have to worry about that anymore.  Our new chair lift is now installed and operational.  The following article, by Lee Chotiner, appeared in the Jewish Chronicle last week:
The members of Ahavath Achim in Carnegie have known for years that their synagogue was not handicapped accessible, but the cost of adapting the 75-year-old building made them cringe.
One estimate to install an elevator came to $60,000 — a steep sum for the congregation of 100 members, mostly retirees on fixed incomes.
Yet when one of their most prominent members, 85-year-old Izzy Horowitz, a member of the board and commander of the South Hills Post of the Jewish War Veterans, fell and found himself confined to a wheelchair, the members knew they had to do something.
Indeed, other members, because they could not access the synagogue, began attending services at Beth El or Beth Hamedrash Hagodol-Beth Jacob, both of which are handicapped accessible.
"We said, 'this is not right,' " said Richard D'Loss, vice president of Ahavath Achim, also known as The Carnegie Shul. "We wanted to accommodate them, but we were procrastinating because of the expense."
No more.
Enter Independent Mobility, a Lawrenceville-based contractor the congregation hired to install a chairlift from the sanctuary level of the synagogue to the social hall below.
Cost to the congregation: $11,500.
But D'Loss said it was worth it.
"We were very fortunate that some members of the congregation pitched in a significant part of that [cost]," he said.
While installing the chairlift took just a couple days to complete, designing it took much longer and negotiated a couple twists and turns.
Since the stairwell has two landings, the track would have to make three turns to deliver its rider upstairs or downstairs.
To produce the lift, the contractor laid out colored tape along the stairway, took digital photos of the space, and developed a computer-generated design based on the images.
From that, the parts were made at a manufacturer in the Midwest.
"It's fascinating actually," D'Loss said of the process.
The chairlift may not be the last handicapped upgrade to the building, D'Loss said. Accessing the ornate, railing-enclosed bima remains a problem.
"That may be a little more complicated," he said given the space available there. "We'll probably be looking at that next. For now, we're happy people can get into the building."