SHALOM
Shabbos
This week's parshah is Chayei Sara which literally means, "The Life of Sarah," and yet this parshah tells not of the life of our matriarch but of her death at 127 years of age and the transition from our first matriarch, Sarah, to our second matriarch, Rebecca.
Sarah's death occurs while Abraham is  at Mt. Moriah for the binding of Isaac and the Midrash tells us that Sarah died from her grief over what she thought would be the loss of her son.
Abraham returns and buries Sarah in a cave that he purchases in Hebron in Canaan and this cave becomes the first Jewish owned piece of land in the Holy Land.
Abraham subsequently sends out his servant, Eliezer, to seek out a wife for Isaac.  Eliezer travels with ten camels to Charan.  At the village well, Eliezer and the camels kneel to rest.  When the maidens of the village come to the well, it is Rebecca who offer water not only to Eliezer, but also to the camels and Eliezer knows that she is the one who is destined to be Isaac's wife.
Following the marriage of Isaac and Rebecca we learn that Abraham marries again, this time to Katurah, who some Jewish scholars believe is actually Hagar.  Katurah and Abraham have six additional sons, but Isaac is designated as his only heir.
Abraham dies at age 175 and is buried beside Sarah by both Isaac and Ishmael.
Last Week's Parshah Revisited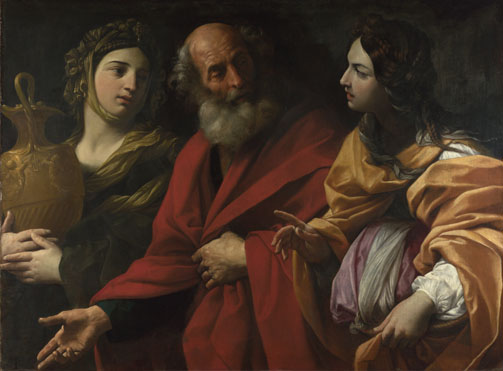 Last week we read the parshah Vayeira.  In reviewing this parshah I mentioned briefly the incident in which Lot was seduced by his two daughters. When I mentioned this incident I stated, "Lot and his two daughters, who believe that they and their father are the only ones left alive in the world, take shelter in a cave, but the daughters, trying to perpetuate the human race, get their father drunk, seduce him, and give birth to two sons." This comment would absolve Lot's daughters of the seduction because they were trying to perpetuate the human race.
While sitting in services last shabbos, however, I read the following comment in our Chumash, which is edited by Dr. J.H. Hertz, C.H., the late Chief Rabbi of the British Empire, that totally contradicts the commentary in my posting.  "Some commentators state that Lot's daughters believed that the destruction had been universal, and that but for them the world would be completely depopulated.  This explanation is untenable; seeing that they had just left Zoar.  Their conduct does not admit of any extenuation; they were true children of Sodom."
Rashi, however, seems to agree with my original posting saying, "They thought that the entire world had been destroyed, as in the Generation of the Flood."
And The Art Scroll Stone Edition Tanach, edited by Rabbi Nosson Scherman, also supports this point of view saying, "Lot's daughters were modest, righteous women whose actions were nobly motivated.  Thinking that the rest of the world had been destroyed in the upheaval of Sodom – and that even Zoar had been spared only while they were there – they felt that it was their responsibility to save the human race by bearing children, even though the only living male was their own father."
Which interpretation do you agree with?
And in our Haftorah last week we read of  a resurrection involving the prophet Elisha and a young boy.  And this is not the only resurrection we find in our tradition as Elijah prays and God resurrects a young boy in 1 Kings  17: 17-24, and a dead man's body that is thrown into Elisha's tomb is resurrected in 2 Kings 13:21.
It's amazing how interesting the texts and commentaries on our Torah can be.  They are well worth reading during the Torah portion of our services.
Annual Kristallnacht Program
The Holocaust Center of the Greater Pittsburgh Jewish Federation will be presenting its annual program on Tuesday, November 13.  This year's program will be held at the August Wilson Center and will include a free viewing of The Nazi Olympics, Berlin 1936 exhibition in the 2nd floor gallery of the Center from 6 to 7 pm, followed by the actual program which will include remarks by Ruth Drescher, Survivor from Stuttgart, Germany, who will speak on Memories of Kristallnacht.  She will be followed by Keynote Speaker Dr. Seymour (Sy) Drescher, University of Pittsburgh History Professor , whose subject will be Entangled Histories: Race, Sports & Inhumanity in Nazi Europe.
Seating is limited, so please RSVP as soon as possible to Matthew Sohner at the Holocaust Center, 412 421 1500, x 104, or email him at msohner@jfedpgh.org.
A Complimentary dessert reception will follow the program.