Candle lighting time is 5:52
Mein Kampf
I read this article in the on-line edition of The Guardian this morning and was actually surprised the expected selling price of $25,000 for an Adolf Hitler autographed copy of Mein Kampf was so low.  I mean, after all, the last recorded auction price for a Honus Wagner T206 baseball card was $1.1 million in 2000.
This is not to say that I would bid a single penny for an Adolf Hitler autograph, but, gee, the Wagner card isn't even autographed and look how much it fetched.
It is obvious that our society has placed far too high a value on anything that is sports related, and that is coming from me, one of the world's biggest sports nuts.  But really, Clayton Kershaw signing a new contract for an average of $30.7 million a year over the next seven years to pitch maybe 33 times a season?  Is that insane, or what?
But at least sports are entertaining.  I would venture to say that there was absolutely nothing entertaining about anything that the Fuhrer ever did.
Still, what Hitler did had far more of an impact upon the world than anything that Honus Wagner or Clayton Kershaw ever did or ever will do.  And we all know that it can be a horrible mistake to forget our history, lest we should allow history to repeat itself.  And so the rantings of the most evil man who ever walked the face of the earth do have a historical value and should be preserved.
Book burnings were a horrible part of the Hitler legacy, so we should not consider burning these copies of Mein Kampf either, although it is a shame that we could not burn at the stake the man who wrote them.
So who will spend $25,000 for this piece of pornographic crap?  I hope it is a library or museum, because I can't imagine why any individual would want this disgusting  piece of history.  But who knows what motivates some people.  If an individual person does buy the lunatic Hitler's mad ravings, the motivation for his purchase should be fascinating.
Copies of Mein Kampf signed by Adolf Hitler to go up for auction
Autographed editions of Nazi leader's manifesto, dedicated to German SS officer, expected to fetch $25,000 in Los Angeles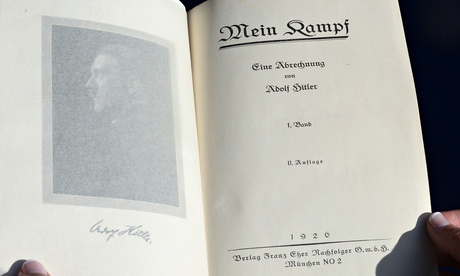 Copies of Adolf Hitler's manifesto Mein Kampf signed by the Nazi leader will go under the hammer in Los Angeles on Thursday.
The rare autographed copies of the two-volume work steeped in antisemitism are inscribed as Christmas gifts to Josef Bauer, an officer in the German SS during World War II and a participant in Hitler's failed Munich coup in 1923.
Bidding in the online auction for the signed books starts at $20,000 (£12,000) and they are expected to sell for about $25,000 when the auction concludes at 10pm eastern standard time on Thursday (0300 GMT on Friday), the auction house Nate D Sanders said.
The Bauer books fetched $25,000 in a sale at Bonhams auction house in London in 2012.
In Mein Kampf (My Struggle), Hitler lays out his vision for a resurgent Germany after World War I along with his National Socialist ideology.
Nate D Sanders, who is Jewish, said his auction house does not shy away from selling memorabilia linked to some of history's most reviled figures.
"I think it's very heinous," Sanders said, "but it is an auction item, it is a memento, it's a piece of memorabilia, and a piece of history."
Mein Kampf – unlike Nazi insignia and some Nazi films and songs – is not banned in Germany. Its German copyright has been owned by Bavaria since the end of World War II, and the southern German state has prohibited sales and printing.